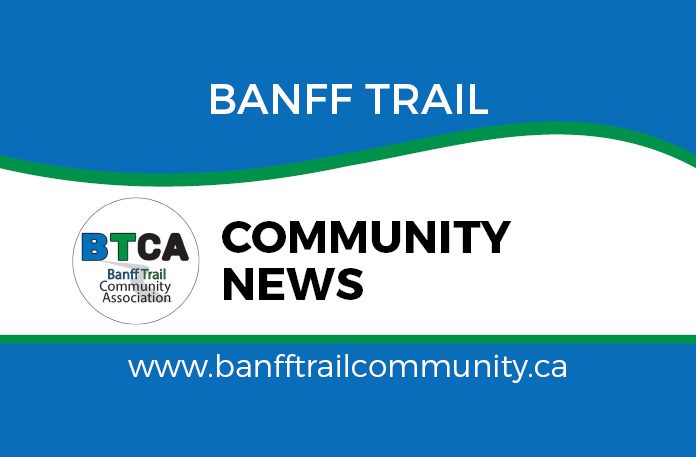 Our Annual General Meeting (AGM) and Harvest Festival of 2021 on September 18 was a huge success. Please see details in this issue.
On September 25, the Banff Trail Community held its Annual Community Clean-Up. This was cancelled last year due to COVID-19. Many thanks to the neighbours who came to dispose of unwanted items to help keep our community clean. We managed to fill an entire U-Haul with metals and electronic items. There were three garbage trucks on standby to take our unwanted items. Amazingly, many neighbours went through the alleys and returned numerous times with items that were cluttering our community. The most impressive thing I saw was the choice to reuse rather that garbage. Many glass items, tools, chairs, garden tools, garden furniture (and so much more) were brought home by other families to enjoy. Neighbours helping neighbours.
We have our Banff Trail Community Pantry in front of our community hall for food donations. This pantry is heavily used and in constant need of donations. Please help donate foods, and thanks to those who do so repeatedly.
Your Banff Trail Membership is absolutely free! Since the 2018 AGM, the Banff Trail Community Association has voted to set memberships to zero dollars in order to include everyone. Please provide your name, contact information, and let us know if you live within the Banff Trail neighbourhood boundaries to [email protected]. Whether you are new or renewing with us for another year, welcome and thank you.
Is there a kid in your home? Are they looking for a volunteer opportunity that delivers fun, parties, and friendship? The Banff Trail Youth Council is right in your neighbourhood. We are very proud to have Kim Jordan as our Youth Leader. Join our youth group! [email protected].
Would you like to see a cycle track in your neighbourhood? More details are in this issue about the Banff Trail Cycle Track.
If you have anything you're interested in, don't hesitate to get involved. Our meetings are always on the first Wednesday of the month from 7:00 to 9:00 pm. Feel free to call 403-282-2234 or email [email protected]. You are more than welcome to attend! The Banff Trail Community Association (BTCA) consists of a pretty awesome group of neighbours who are here to make Banff Trail a great place to be.
Your editor for the Banff Trail Howler,
Ravenmoon Spicer
Honouring Indigenous cultures: Calgary (and Banff Trail) is situated at Mohkinsstsis (in Blackfoot); Wîchîspa (in Stoney); or Guts'ists'i (in Tsuut'ina) in Treaty 7 territory, home of the Blackfoot Nations, Stoney-Nakoda Nations, Tsuut'ina Nation, and the Métis Nation of Alberta, Region 3.