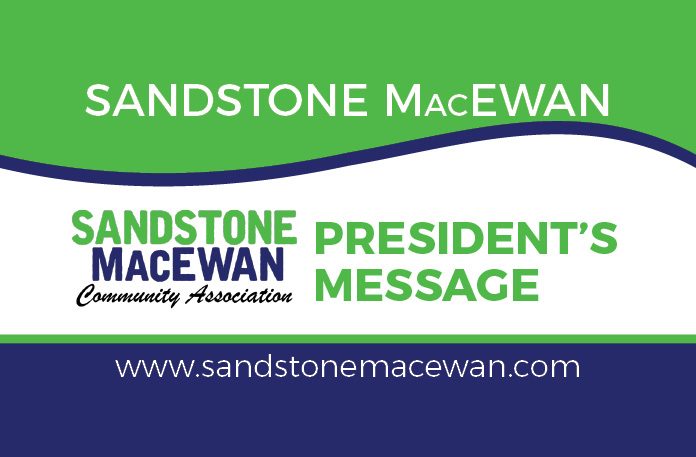 Merry Christmas and Happy New Year!
I hope you have been able to get out and enjoy the Christmas Lights and other festive activities. Did you notice the winter arrangements in our planters? Please let us know what you think!
Don't forget to get some exercise on the hockey and pleasure rinks along with the toboggan hills in and around our neighborhoods. There is nothing better than free entertainment, especially at a time when money could be tight.
We continue to offer a skate exchange program and have roughly 30 pairs of skates in assorted sizes (including figure skates). Please let us know if you have skates you can donate. To request skates, or to donate, please email us at [email protected].
We have many seniors in our communities who struggle to keep their walks shoveled and can't afford to pay a company to do it for them. Please look around and consider becoming a 'Snow Angel' in your immediate area.
Our SMCA Annual General Meeting was held on November 23, 2021, and I will provide a list of the names of the new SMCA Board in the next newsletter. We also held our budget meeting in November, so I will also provide an update on the projects the Board is working on next month.
We are looking for volunteers to assist with the hockey rink. This rink is available to all individuals, regardless of age, so whether you play hockey or not, please consider assisting when you can. It typically works best to clean and flood in the evening; however, a flood can happen during the day if there are individuals available.
Gardening in the winter? Director Karen Lessard continues to work on the SMCA community gardening project and is always looking for volunteers.
Who knew we had the wildlife we do in our neighborhoods? We have received photos of owls, bobcats, and coyotes. Please keep it up! Every month we select one photo for the cover page of our SMCA Newsletter and include several others for inside the newsletter that showcase our great community. Submit photos to [email protected]. Photos must be high resolution and received by the 9th of the month to get into the following month's edition.
Thank you for the continued support of membership purchases! Your contributions assist us in paying for two of our most popular features, the Christmas lights at the Sandstone Drive rink ($1,600) and our planter program, with seven planters ($5,000). We hope to purchase more planters in our two communities, but we need your help.
Please go to sandstonemacewan.com to purchase your SMCA memberships online or email Carolyn Gomez at [email protected]. Those who purchase a three-year membership ($50) will receive a SMCA to-go mug and those with a one-year membership ($20) will receive two SMCA beverage koozies.
We have over 1,000 Facebook followers, 500 Twitter followers, and over 200 Instagram followers! Please contact us on our website or our social media sites including Facebook SMCA, Twitter @sandstonemac, or https://www.instagram.com/sandstonemacewan/. Look for our occasional emails and email us at [email protected] to be included in this distribution list.
Sue Coatham
President, SMCA
Celebrating 35 years of SMCA