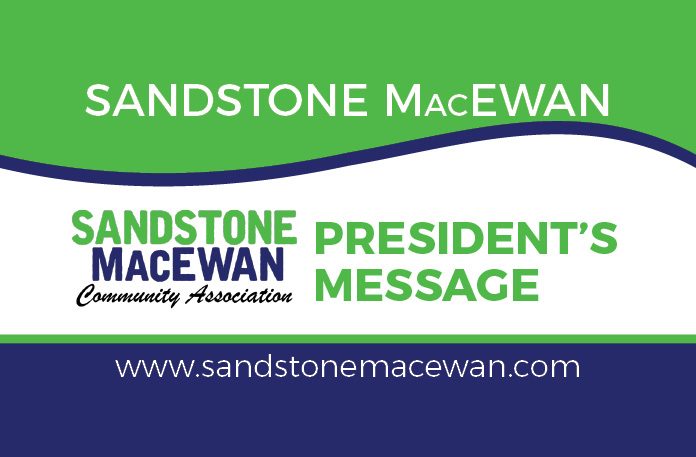 Happy New Year!
As we head into 2022, it is worth looking back at 2021. I want to let you know what your Community Association has done for you.
In 2021, we proudly celebrated 35 years as a community and, while we were unable to plan a large function, we had many smaller events throughout the spring and summer, and volunteers were each presented with a 'celebrating 35-year toque'.
On May 1, we shovelled 12 yards of compost into buckets and bins to hundreds of eager gardeners who lined up. Thanks to Wayne Watson for organizing this and to Nick Bencsik from Big Man Landscaping.
Yoga in the Park returned and despite changing the location to the MacEwan Park, Yogi's returned in full force making it a very popular event again.
Karen Lessard and Carolyn Gomez assisted Sabey Landscaping to place and plant our permanent planters in seven different locations. Thank you for all your kind comments regarding both the summer and winter displays.
We also received many emails complimenting the Board for the refurbished signs in Sandstone and MacEwan and we can thank Karen Lessard and Tim Huston for their hard work!
Thanks to Sharon Mazurkewich, we have initiated a volunteer recognition program highlighting the hard work of our volunteers and Board Members.
In September: A special thanks to Willa Wu for managing the logistics of our event. We hosted the community clean-up that was well received. Tons of garbage and items for recycling were removed from our communities.
We continue to offer a skate exchange program and have roughly 30 pairs of skates in assorted sizes (including figure skates) to give away.
Behind the scenes, Colin May has overhauled our information management system that will result in hundreds of dollars in savings each year.
Karen Lessard continues to work on the community garden project and gardeners can look forward to hearing very good news in the spring!
The work continues with the shed replacement initiative on Sandstone Drive. We hope to have it replaced in the late spring.
As well, our capital project to replace the hockey rink continues and Colin May has been busy working on grant applications.
We were fortunate to have been able to hold our annual general meeting in person on November 23, 2021.
Our 2021-22 Executive and Board are as follows:
Sue Coatham                                President
Trevor Bacon                                 Vice-President and Newsletter Director
Phil Nantais                                   2nd Vice-President
Willa Wu                                       Secretary
Sharon Mazurkewich                      Treasurer
Jennifer Bidlake-Schroeder             Director at Large
Carolyn Gomez                              Membership Director
Pinky Nantais                                Casino Director
Colin May                                      Director at Large
Karen Lessard                                Director at Large
Don't forget to submit your photos to the SMCA Newsletter at [email protected]. Photos must be high resolution and received by the 9th of the month to get into the following month's edition.
Please go to sandstonemacewan.com to purchase your SMCA memberships online or email Carolyn Gomez at [email protected].
We have over 1,000 Facebook followers, 500 Twitter followers, and over 200 Instagram followers! Please contact us on our website or our social media sites including Facebook SMCA, Twitter @sandstonemac, or https://www.instagram.com/sandstonemacewan/. Look for our occasional emails and email us at [email protected] to be included in this distribution list.
Sue Coatham, President, SMCA