Auburn Bay Notes
Please consider this message a reminder message for our online AGM to be hosted April 7, 2021. Please see our website and social media pages for the links/phone number you can use to access the meeting.
Happy Spring Everyone,
We hope you are enjoying the beautiful weather that we have been experiencing. The cold and snow we just had definitely makes one appreciate the nice days.
We have been advised that people in the postal code of T3M 3A8, are actually part of the postal code for Mahogany and would not be receiving their newsletter via Canada Post. Additional copies can be picked up at Auburn House.
The City of Calgary decided on giving us Father's Day for the City Services Community Clean Up, we passed on that, as we have partnered with Cranston CA on June 12, 2021. The event will be from 9:00 am to 2:00 pm. We are still working out the logistics of it, as they are not sure if it will be at Century Hall or the LDS church, due to a wedding being booked. Which location it will be at it will all depend on AHS regulations. There will be donation, metal and electronics recycling, garbage, and composting that is currently confirmed.
We will be hosting an Auburn Bay (Green spaces and parks) Clean Up on June 5, more details to follow, but please use the new volunteer link on our website to have your name added to the list.
Do you want to get involved in the community? Not sure how? Please remember that volunteering is the price you are willing to pay for the community you want to live in. Does your community have the Parade of Lights (Making Spirits Bright), Auburn Bay and Community Clean Up, Stampede Breakfast, Free Family Games Day, Park n' Play / Stay n' Play Programs, or Community Gardens? Then we do need more people to step forward and help the CA continue to be your voice with the City, and the Alberta Government.
I would like to take this time to thank Justine S., and Peju A. for being on our board, we wish you all the best in your future endeavors. We have had two new board members step forward to fill the roles these amazing ladies are leaving: Secretary and Treasurer. Welcome to Tiffany W. and Leanna M., we look forward to working with you into the future, and your input.
In addition, Paul R. and Mark C., are working together as our volunteer coordinators, and will be reaching out to everyone interested in volunteering. Especially for the Auburn Bay Clean Up, so please make sure to reach out to them at [email protected] for more details.
We will have an update on the community gardens project next month, and how we are getting involved with Helping Hands. As of our last board meeting, we will potentially be looking at moving the project to the CA site in the years to come, once the LRT moves forward, which may mean running service to the site.
We did get the details on the new CBE K to 4 school that is currently under construction on the corner of Auburn Springs Blvd and Auburn Crest Park SE. It will have the capacity of 600 students and has been accelerated forward a year. It is expected to be completed in the summer of 2022. Due to the accelerated construction date and AHS restrictions, they were unable to host an open house for the project. Please email us at [email protected] if you would like to be able to access the digital copies of the plans.
As mentioned before the City of Calgary tracks all 3-1-1 requests, please see the top 5 for February listed below: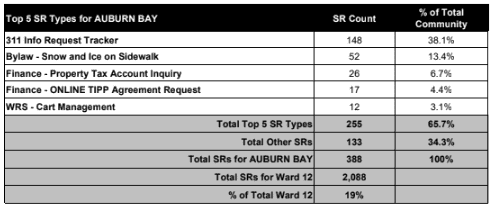 The Good Food Box program offered by Community Kitchen continues to grow. It is a mixed box of seasonal fruits and vegetables that is delivered to the community. Please see the order form post on our website for the order and delivery dates, as well as some photos of items from a past order.
With the continuation of the pandemic and closures, I have unfortunately heard of too many families being affected. Please know that there are people out there who care and are just a phone call away. 211 has a list of all available provincial and city programs that can help in a variety of ways.
Auburn Bay has a huge group of social media pages, so please make sure to check them out for any interests you might have, from seniors to gardeners to Good Food Box. We have been asking for feedback on various community projects. Please remember we need your input to help us understand what concerns/issues you feel we need to work on.
Our next online meeting will be our AGM on April 7, 2021, followed by May 5. These meetings are open to anyone and we look forward to having you there for your input for the community.
Carla Obuck
Sports and Events Director, Auburn Bay Community Association (ABCA)