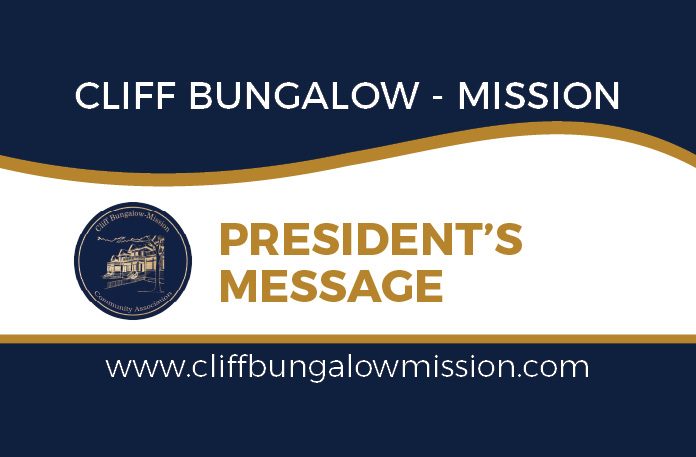 Keep up to Date – Sign Up for Email Updates
Things can and do change, and quickly. The newsletter is not frequent enough to communicate things that are changing on short notice in regard to the community association, the community centre, and community events.
To stay up to date, please register your email address near the bottom of our website at www.cliffbungalowmission.com.
COVID-19 Update
At the time of writing this column (January), COVID-19 has not gone away, so there are restrictions for those attending our Jazz night events and such:
Face masks are required except if you are sitting and drinking a beverage.
All attendees must show proof of vaccination, or a negative COVID-19 test taken within 72 hours.
We are not starting Potlucks, Board Game Nights, or Trivia Nights at this time.
We will update on any changes through emails, etc.
Environment Director
Selin Belgin, our Environment Director, has determined she does not have time to take on that role. So, we need to recruit a replacement. Look for the information on this role elsewhere in this newsletter. Selin will stay on the Board as a Director at Large. Contact me at [email protected] if you would like to explore this role further.
We Need Help Keeping Our Social Media Platforms Up to Date
Are you active on various social media platforms? Would you like to help keep our social media platforms up to date? You would be working with our Communications Director, Nicole Butz. This could be either a task specific position or you could possibly take on a larger role as a Director at Large. If interested (or curious), contact Bob Lang at [email protected] and Nicole at [email protected] and we can set up a meeting with you.
Save the Dates – Casino 2022
We have been slotted by AGLC for a casino on Sunday, May 15 and Monday, May 16, 2022. This is an important fundraiser for our community. We have not had a casino since 2018. Gaming funds help pay for a significant portion of our community centre operating costs. We will need your volunteer support to make this casino happen. Please email me at [email protected] to get a fillable volunteer form. There are three shifts each day: Daytime from 11:00 am to 7:00 pm, Evening from 7:00 pm to a little after 3:00 am, and the Countroom from 11:00 pm to a little after 3:00 am. We pay for the food and can arrange a ride. At the moment, facemasks are required. You also need to show proof of vaccination, or a negative COVID-19 test taken within 72 hours.
We Received a Wonderful Email
On January 4, Stephanie sent us a wonderful email detailing her experience when she lost a treasured family heirloom. On December 31, she went on a walk and unfortunately lost a necklace given to her by her grandmother. She reached out to the community Facebook. Nicole Butz, our Communications Director, made some suggestions. Stephanie posted on our Facebook and within 24 hours got a response from someone who found the necklace. That person put it on a post near where Stephanie lives. Then another person took it to the doorman in her building who got it to Stephanie. She was thrilled to get it back. She especially thanks Nicole for the help and she has made a donation to the community association. She was reminded of the fact that we are surrounded by good neighbours in Cliff Bungalow and Mission. Thank you to all who helped make this happen.