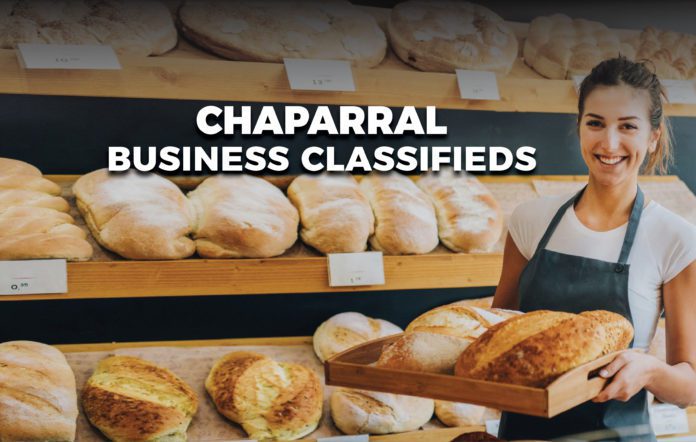 NEPTUNE PLUMBING & HEATING LTD: Qualified journeymen plumbers/gasfitters, very experienced in Chaparral. Upfront pricing. Reliable, conscientious, fully guaranteed. Mon – Fri 8:00 am – 5:00 pm. 24-hour emergency service, call 403-255-7938. "Showering you with great service."
CHAPARRAL MORTGAGE BROKER: SAVE A BUNCH OF CASH! As a Calgary mortgage broker, I have helped your neighbors navigate their purchase, refinance, and renewal options. If you are looking for expert mortgage advice, excellent rates, many options, and better financing, Call Anita at 403-771-8771 | [email protected] | Licensed by Avenue Financial.
ACCOUNTING, BOOKKEEPING, TAX RETURNS: T1, T2, trusts, payroll, GST, regulatory compliance, start-up consulting corporations/sole proprietorships. Responsive, professional. We file on time, avoiding penalties and interest. Produce/file all slips: T4s, T4As, T5s, T3s, T5018s. Review/audit work welcomed. Doing business in Sundance since 2003. Call or text Claudia at 403-819-0421, email [email protected], or visit www.bowriverbusiness.com.
HERITAGE WEST PLUMBING AND HEATING: 5-star Google rating, Senior and Veteran discounts. Highly trained plumbers and gasfitters. Water heaters, furnaces, boilers, drain cleaning, leaks, and renovations! Competitive prices with quality, 24-hour service! Heritage West, we are one of the best, put us to the test! BBB Accredited. 403-993-0639.
CHAPARRAL CONTRACTOR FOR HIRE: Over 20 years' experience completing renovations in and around Chaparral. Lefroy Construction is happy to quote, organize and execute any renovation or new construction project. Call 403-616-0880 to discuss your project. www.lefroyconstruction.com.
OFFICIAL PLUMBING & HEATING: Small company, low overhead, excellent warranties, and great rates. Specializing in residential service and installs. Services include furnace service and replacement, hot water tank service and replacement, leaks, clogs, gas fitting, and more. Licensed and insured. Why wait? Call today and get it fixed today! Available 24/7, we accept debit/VISA/MasterCard. Call 403-837-4023 or email [email protected]; www.official-plumbing-heating.ca.
ELECTRICITY IS NOT A HOBBY: Call a licensed electrician and pot light specialist. No job is too small. Excellent rates. Please call John at 403-281-5002 / 403-708-6555.
ACTIVE SPORTS THERAPY: Looking for Chaparral Sports Chiropractic, Chaparral Active Release Therapy, Chaparral Physiotherapy, Chaparral IMS, or Chaparral Massage Therapy? Our unified team of expert practitioners have one common goal – to help you achieve a higher standard of health so you are able to do all the things in life that you love to do. Call us @ 403-278-1405 or visit activesportstherapy.ca to book a free consultation.
YOUR CHAPARRAL HOME SOLD GUARANTEED: If you are looking for a realtor in Chaparral contact Len T. Wong at 403-606-8888. With over 33 years of real estate experience in Calgary, Len T. Wong is here to assist with buying and selling homes in Chaparral. https://calgaryluxuryhomesearch.com
CHAPARRAL DIGITAL ADVERTISING: Book a digital classified ad campaign geo fenced in and around Chaparral and gain more of the customers that you are looking to do business with. Call 403 720 0762 for a free consult.
BASEMENT WINDOWS R-US: New or larger window openings – includes complete install. Digging, concrete cutting, material/dirt hauled away. Member of the BBB. Call 403-201-0317 or cell 403-660-0612.
CHAPARRAL LANDSCAPER: Jackson & Jackson Landscaping have been serving Calgary since 1979 and we are well qualified to design and implement the landscaping needs of your home. We are an established business in Chaparral with a reputation for providing outstanding quality landscaping and customer service. Call Cam at 403 371 3814 for a free consultation and quote. https://jacksonjackson.ca/
CHAPARRAL READING, WRITING, MATH, TUTOR:: Grades K-6. Certified, experienced, professional, trained, 15+ years' experience, and affordable. Early reading literacy skills – I can build a solid foundation to help a student become a better speller, writer and reader. Catered/individualized lesson plans. Awakening potential academic skills, abilities to achieve understanding. Using learning skills to gain confidence. 403-993-9467 for info.
CROWN RENOVATIONS: Beautiful kitchens, bathrooms, and basements at affordable prices. Over 30 years' experience in quality renovations. Full service custom cabinetry. Local, licensed, bonded, and insured. Free in-house estimates. Visits to former clients can be arranged. Full house renovations. Check out our latest before and after renovation at www.crownrenovations.com. Call Bill at 403-819-8588 or email [email protected].
DENTAL CARE, UNCOMPLICATED! Minutes from Chaparral. Your message was received loud and clear. Let's cut through the noise. No fluff, no frills, independent, non-corporate, flourishing establishment for over 32 years! Everybody's dental insurance accepted. Direct billing, payment plans OAC. Instant tax receipts for your paid portion. Let's save money and live better! Call today at 403-287-6453 or 403-272-7272. Visit calgarydentalcenters.com.
KITCHEN CABINETS REFINISHED: Hate the orange in your oak cabinets? Restore wood cabinets, water damage, get grime removed for approximately $1495. Or change the look with a new colour spray finish for about $3695. Environmentally friendly alternative to replacing or refacing. Call Doug at 'Not Just Paint' for a free estimate/consult. 403-671-0324.
LOCAL HANDYMAN: Available to complete your projects around the home. Plumbing, electrical, drywall repairs, appliance repairs, wall mounted TVs, concealed audio/video wiring, computer setup and repairs, general cleanup, landfill trips, seniors discounts. No job too small, free estimates. Reliable, conscientious. Call Alan at 403-660-3170.
NEIGHBOURHOOD CONFLICT? Community Mediation Calgary Society (CMCS) is a no-cost mediation and conflict coaching service that can help you resolve problems and restore peace! We help neighbours be neighbours again! www.communitymediation.ca, 403-269-2707.
OKONBOOKS PROFESSIONAL ACOUNTING AND INCOME TAX SERVICES: Experience in public accounting, CPA, CMA provides multiple year filings, mobile services, Canada and US personal and corporate tax preparation, bookkeeping, GST, and source deduction. Please call 403-305-0955, email [email protected], or visit www.okonbooksaccounting.com.
PAINTING: Calgary's wall repaint experts. Fast, free estimates and colour consults. Friendly, clean, and on time. Check out our great reviews! Father and son power team. Fully insured. Please call/text Eric at 587-893-0326. www.elementpaintinginc.ca. Thank you.
PROMOTE YOUR BUSINESS IN CHAPARRAL: We create highly-targeted, cost-effective advertising campaigns in our large portfolio of monthly community newsletter magazines that have extremely high readership. We also create and implement highly-effective geo-fenced digital advertising campaigns. For a free consult, call Great News Media at 403-720-0762.
THE GUTTER DOCTOR! Eavestrough cleaning, repairs, and installation. Fascia, soffit, cladding, roofs, siding, heat cables. For over 19 years and 50,000 projects we have done the job right – and it's warrantied! Fully Insured, Licensed, WCB coverage. A+ rated BBB member. Top award winner. www.gutterdoctor.ca, 403-714-0711.
To have your business profiled in the monthly Chaparral Business Classifieds, please contact Great News Media at 403-720-0762, or visit www.greatnewsmedia.ca – Leaders in Community Focused Marketing.
Return to the Chaparral Community News home page for the latest Chaparral community updates.
Visit the Chaparral Real Estate Listings home page to see the latest Chaparral homes for sale.
This Chaparral Business Classified list includes the following types of local businesses and services: | Accountant | Bookkeeping | Chiropractor | Construction | Contractor | Dentists | Electrician | Handyman | Home Renovations | Landscaping | Media | Mediation | Painting | Plumbing | Plumbing & Heating | Plumbing and Heating | Publishing | Realtor | Reno's & Removal | Tutoring | Windows Covering