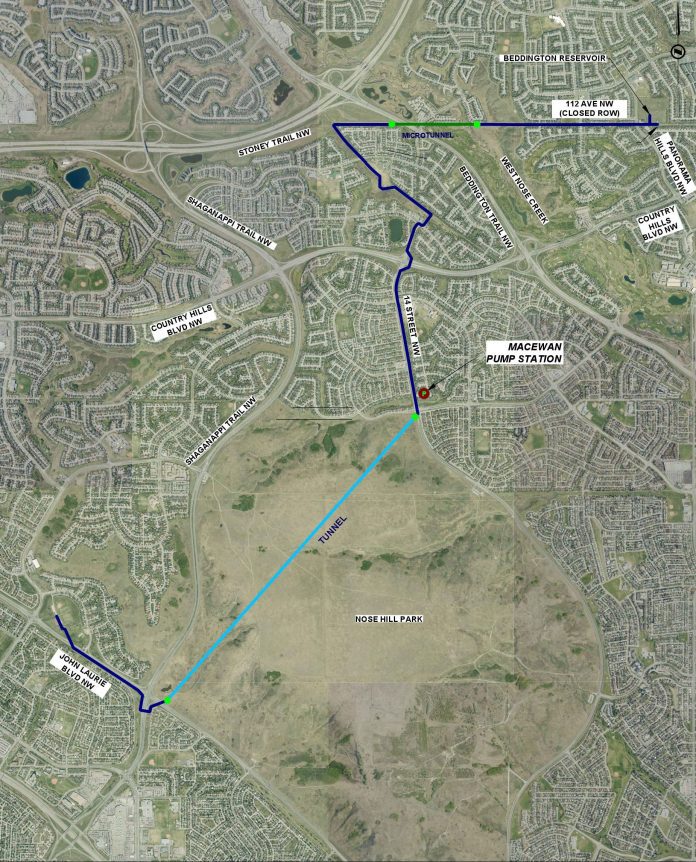 As I write, the City is reconsidering the proposal to permit open liquor in municipal parks. Alberta began allowing alcohol in day-use picnic areas in select parks across the province. Alcohol could be consumed in these areas, along with food. That is what was proposed in Calgary's original pilot project, in early 2019, but now also involves consideration of the issues of social disorder, community health, and enforcement.
The North Calgary Water Servicing Project is construction of a new 10 km feeder-main to provide drinking water to new and existing communities. The detailed design stage will be completed in fall 2021. Construction begins in 2022 and ends in late 2025. In late January-early February 2021, the site investigative work of drilling a borehole to identify soil properties in the NE corner of Nose Hill Park (near MacEwan Glen Drive NW) impacted one pathway, so there were appropriate signs and barriers to notify pathways users.
Part of the proposed route crosses under Nose Hill Park (from the SW to the NE) and involves tunnelling technology up to 90 metres below the surface. This trenchless method of installing pipe (by two shafts at either side) uses a machine to install the pipe underground and minimizes impact to the natural area of the park. The two shaft locations will be restored to their original state, following construction.
As published in our Spring 2018 newsletter, a City Waterworks Report (February 12, 2018) said the detailed design phase began in 2018. At the time, no further field work was anticipated in the upper plateau of the park since the geotechnical investigation was done in March 2017. The earliest construction phase was anticipated to be 2020. The date changed, based on budgeting and prioritisation.
https://www.calgary.ca/uep/water/construction-projects/construction-projects-and-upgrades/north-calgary-water-servicing-project.html.