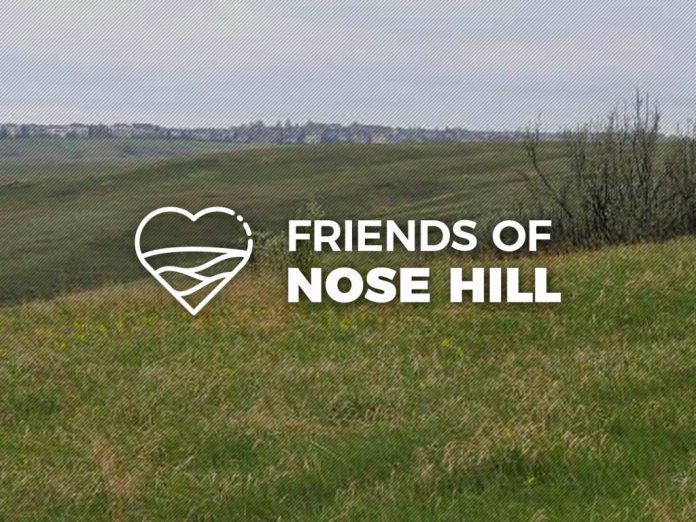 by Anne Burke
In the Blackfoot language, Calgary is Moh'kin'stis; in Stoney Nakoda, Wiçispa Oyade; in Tsuut'ina, Gu'tsi'tsi and, in Métis, it is Otoskwunee. The Calgary Environment Strategy (June 2021) acknowledges the traditional lands of the Treaty Seven Nations – the Blackfoot confederacy, (Siksika, Kainai, Piikani North and South), the Tsuut'ina, the Îyâxe Nakoda Nations (Bearspaw, Chiniki, Wesley), and the Métis Nation of Alberta, Region 3. Nose Hill Park contains significant archaeological sites, including stone circles. These were formed by using stones to hold down the edges of tipis and are called "tipi rings". Because of its height, the Hill was also a venerated place used for ceremonies and burials.
In 2015, a sacred aboriginal landmark was built in the SE corner of the Park as part of a conference of the Blackfoot Confederacy. Members of the Blood Tribe built a traditional medicine wheel on top as an offering site for visitors. The new circle is next to a semi-buried circle of stones left behind. The wheel is in the shape of the Siksikaitsitapi logo, a circle to represent the tribes of the Blackfoot Confederacy. The closest Park entrance to the site is off 14th Street NW, nearest to downtown.
In 1979, the Native Urban Affairs Committee represented Aboriginal issues and concerns. In 1987, its name was changed to the Calgary Aboriginal Urban Affairs Committee. In June 2015, the Truth and Reconciliation Commission released 94 actions for all Canadians. City Council asked the Committee to provide a response which takes into consideration how to respond locally. This resulted in the White Goose Flying Report, a local adaptation of the Commission's Report; it identified 18 actions that can be influences locally.