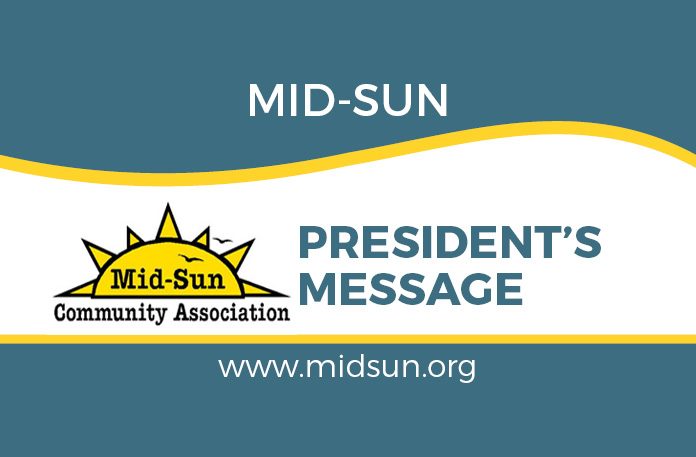 Hi Everyone,
As usual, December has caught me a bit off guard. I do know that it comes after November but still, it feels like suddenly and unexpectedly it's December with just a few weeks until Christmas and the start of a New Year.
Our Mid-Sun Community Association Annual General Meeting was held November 3. This year it was held entirely online. The new bylaws were voted in, and a new board was elected. I'm happy to announce that the 'new' board consists of exactly the same members as the previous board. These are all delightful people to work with, and we are so fortunate to have them donate their time to our community.
In spite of the COVID challenges, we have had a successful year. Our summer day camps were well attended. There were 40 gardeners in our Community Garden. Ian Laird, our Traffic rep, has made excellent progress in improving traffic safety in our community. Our Seniors Social group has resumed weekly meetings, and our social media presence is expanding, with over 1000 member in the Mid-Sun Community Blockwatch Group, and upwards of 700 members in the Mid-Sun Community Discussion and Recommendation Group. We also re-started the landscaping project at the community center and will be providing more updates in the future.
All this can't be accomplished without a lot of effort from our board members, the wonderful staff at the community center, and other such as our Neighborhood Partnership Coordinator, Lisa Johnston. The Neighborhood Partnership Coordinator works with community associations in their efforts to make communities a great place to live, work, and play. Lisa spends a lot of hours working with us, and we certainly appreciate her time and dedication. Other thanks goes out to MLA Richard Gotfried, Constituency Manager Christina Steed, and City Councillor Peter Demong for their support of our board and our community.
I'll close by thanking everyone in Midnapore and Sundance for making this community such an ideal place to live.
Have a wonderful Christmas and very Happy New Year.
Patsy