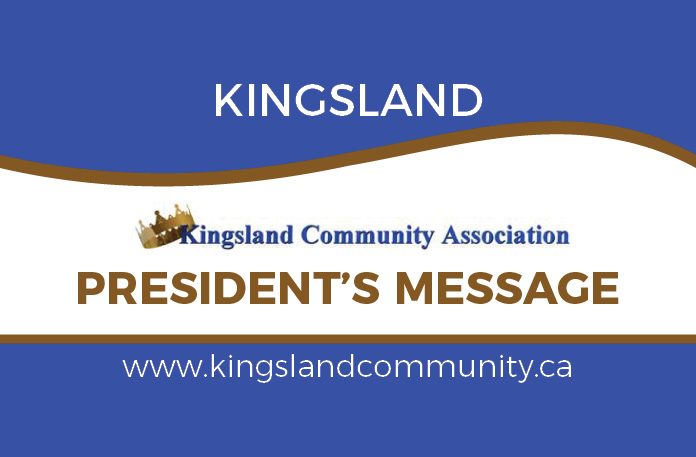 Hello Kingsland,
One afternoon this summer, I was out for a walk through the neighbourhood and stumbled upon an art sale/pottery sale; two sisters set up a table on one of their front lawns and invited the community to see the projects they had been working on over the last several months. I was stunned to see the level of talent they had, their friendliness, and the simplicity of the pop-up style show they had. I am always so in awe of the talents people have and the dedication they have to their hobbies; it made me so grateful to live in Kingsland!
Thank you everybody who participated in the Beer Tasting hosted by Bitter Sisters! And thank you to everybody who attended our Food Truck days over the summer! Thank you to Charlotte Pickel and Kaitlin Quinlan for all your efforts in organizing!
Right now, we are looking ahead to the upcoming year; we have some hopes and dreams on the horizon!
My goal for September is to clean out the garage and basement! We will be hosting a Clean-up Day at the Hall on September 11 from 9:00 am to 2:00 pm. Bring your garbage and organic waste, metals, electronics, and gently used small housewares, appliances, furniture, and clothing.
On October 28, we will be hosting our Annual General Meeting and will be putting forward a Special Resolution to change our bylaws. Our goal is to ensure they are clear, up to date and reflect how to want to operate. Everybody with a community membership will be sent a copy of the proposed changes in advance of the meeting and they will be posted on the website. If you'd like to have the opportunity to weigh in on the changes, please get a membership ($20 or by donation for seniors) and attend our Annual General Meeting. This is a good opportunity to learn more about our association and how we operate.
For the rest of the year, I am hoping we have opportunities for some fun and engaging social activities. Do you have an idea for a social activity? Send your ideas to [email protected] or share it on social media. We are looking for social committee volunteers and really want to hear from you. What is a meaningful way for you to connect? For new residents, how would you like to meet your neighbours as it becomes more and more safe to do so in person?
Looking forward to the year ahead.
Sincerely,
Amy Mireault