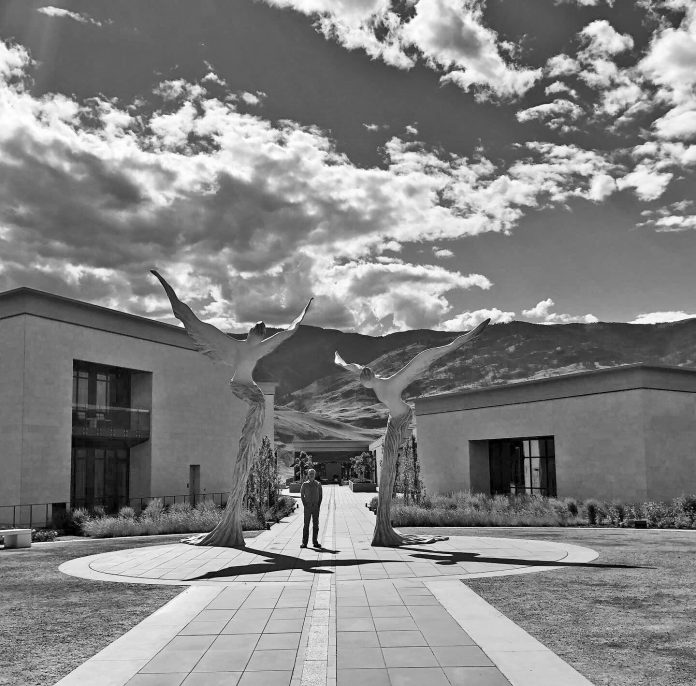 Looking for a wow in wine tasting? Consider Phantom Creek Estates on Black Sage Bench, ten minutes south of Oliver. Vineyards on this bench are noted for producing the largest block of Bordeaux-style varietals in Canada, so if you are dialed up for big reds, this is the place for you.
At the entrance, you are greeted by a pair of six-metre-tall angels sculpted by Chinese artist Wu Ching Ju, indicating you have arrived somewhere special and unique. Beyond the statues, on the left, you find the tasting room which bring you to another level of sophistication. Guided tastings take place on a patio furnished with luxurious white couches. The elevated property allows for a stunning view of Osoyoos Lake to the south and Golden Mile Bench to the west.
The lovely build-up to the moment we took our seats culminated in a thorough and knowledgeable tasting, by a wine student preparing to further his education in Bordeaux the following week. He recommended a charcuterie tray that complemented the exceptional wines in his selected flight and his presentation was delivered in a way that even my Generation Z daughters left with stories to share with their university pals.
I was taken with the 2016 Becker Vineyard Cuvee, a top-notch red blend of Merlot, Cabernet Franc, and Cabernet Sauvignon. A Mediterranean vibe with black plum, balsamic notes, and a hint of olive on the finish shows the best of Black Sage terroir. 2017 Kobau Vineyard Merlot is elegant and velvety smooth: a perfect balance of acidity, minerality, and tannic backbone. Juicy black currant appeared on the front palate with clove and vanilla on the finish.
Phantom Creek offers Estate Tastings which include tours of the vineyard, underground facility, wine making operation, and an impressive barrel room. They are also in the process of creating five-course wine-paired dinner menus. So, what are you waiting for? Make your way out before this becomes the busiest place in the Okanagan!