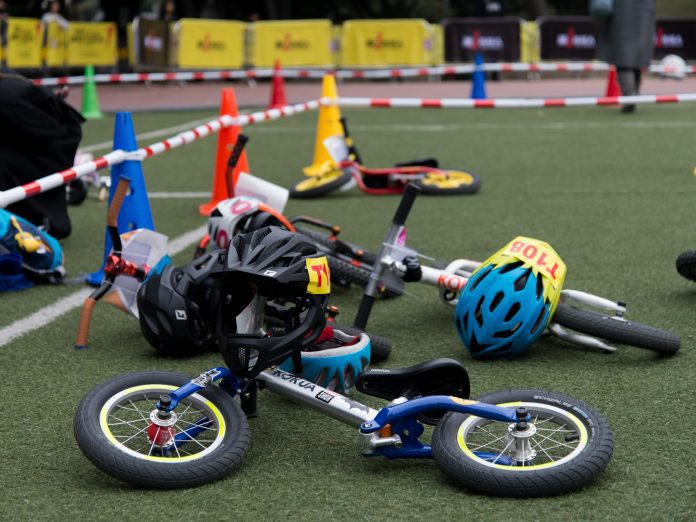 Head injuries are the leading cause of serious injury and death to kids on wheels*. Most injuries occur when a cyclist suffers a fall, strikes a stationary object, or collides with another cyclist/pedestrian. Remember – it's the law in Alberta that cyclists under the age of 18 must wear a helmet (and highly recommended for all ages). Helmets should be CSA approved and worn during recreational activities such as skateboarding, in-line skating, and cycling.
Getting informed
Wearing a helmet while cycling can prevent a serious injury, or even save a life
Brain injuries can cause permanent disability or death
Reduce your risk by always wearing your helmet
Replace any helmet that has been involved in a crash, even if it appears undamaged
Getting started
Allow children to assist when buying their helmet. Cyclists who choose their own helmet are more likely to wear them
Start the habit early. Young children learning to ride tricycles need to wear helmets
Parents must lead by example – always wear a helmet when cycling
Getting the right fit
Take the time to properly fit and adjust your helmet to ensure maximum protection in case of a crash
When worn properly, helmets should fit level, not tilted up, or down over the forehead
Helmets should feel snug, but not too tight. To test the fit, the helmet should not fall off when you shake your head from side-to-side while the straps are unfastened
Adjust the chin straps to form a "Y" below and slightly forward from the ears
Only one finger should be able to fit under the chin strap when it is fastened
Do not forget to use the sizing pads included with the helmet. They will help improve the overall fit, comfort, and safety.
* Parachute Canada: http://www.parachutecanada.org/injury-topics/item/wheeled-activities1.