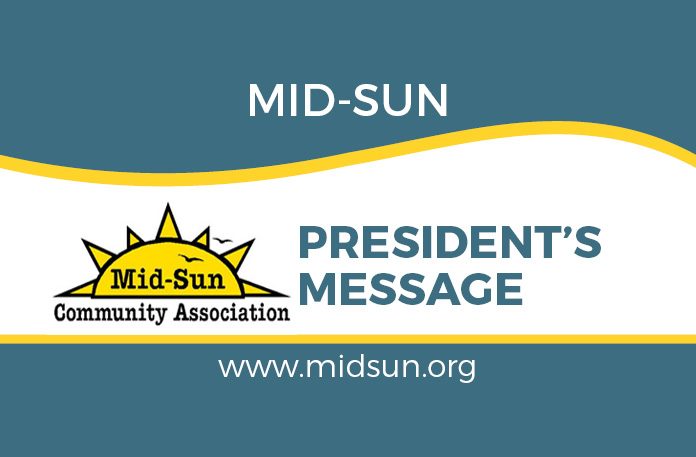 Welcome to August and the 'Dog Days of Summer'!
The 'dog days' are hot, sultry days – usually the hottest days of the year. They are called 'dog days' because they frequently occur around the time of the rising of the star system Sirius, which is known as the Dog Star. August is frequently the hottest month of the year in Calgary, but this year we had some pretty high temperatures in July, so that might not be the case. No matter what August brings, I feel fortunate to live in a lake community, where a cool dip in one of the community lakes is possible.
During those incredibly hot days in July, the road crews were busy resurfacing MidLake Blvd. I am enjoying the new smooth surface and don't miss the potholes one little bit, although it might have helped slow down the traffic. Speaking of traffic, be sure to read the update from the traffic committee in this issue of Mid-Sun messages.
At the community center, our day camps are going strong. After so many months of closure, it's encouraging to see the facility in full use again. We are looking forward to running a complete complement of fall programs, and to get our Senior's Social program going again. Please check our website at midsun.org for more information. We are also excited about our proposed landscape plans and are working on grant applications for funds to move this forward.
Also check out our Mid-Sun Community Discussions and Recommendations Facebook page. I posted in this group looking for recommendations for local businesses to do some deck work and was thrilled at the great responses. Thanks to all who read and support this group, it's a splendid resource.
I'm so sorry that I made no mention of Pride month in the June MidSun Messages. MidSun does support the LGBTQ+ community and we want members of that community to feel welcome, safe, and supported here. If there are other things we should be doing as a community association in that regard, please let me know.
Enjoy the rest of our lovely summer.
Patsy