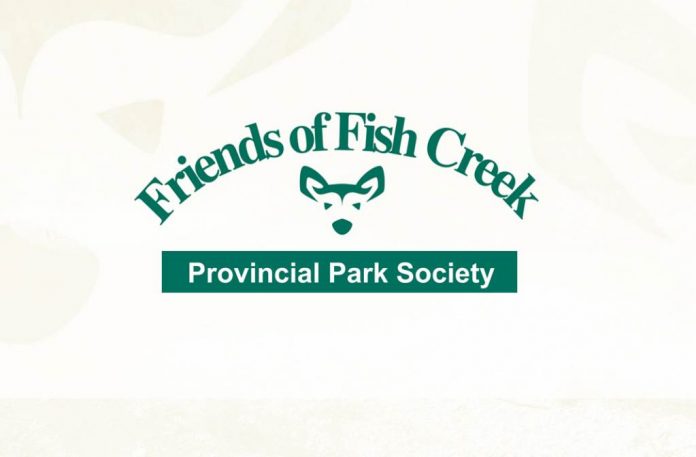 Spring Birding Course Starts April 1
During the spring, hundreds of bird species pass through or reside in Fish Creek Provincial Park. Through the Spring Birding course, you can see, hear and learn about fascinating bird species, view them as they return from their wintering grounds and enjoy watching new spring arrivals. This course is great for families who would like to spend time together in nature, explore Fish Creek and other natural areas, and learn about birds and conservation. Lifelong naturalist Gus Yaki, and other experienced birding instructors, conducts these outings as a fundraiser for the Friends of Fish Creek.
Registration Required. To register visit www.friendsoffishcreek.org/programs/birding-course/
Phase 3 Bricks are Selling Fast!
The third and final phase of the brick pathway is currently being developed and spots are going fast! For only a $250 tax deductible donation, you can dedicate very special 25th Anniversary Brick and have it engraved with your name, the name of a loved one, or a special message. Become part of history and show your support for this cherished natural area by dedicating a brick today. All funds raised through this program will help us to realize our vision of a sustainable Fish Creek Provincial Park that improves the lives of current and future generations. Thank you to everyone who previously dedicated an Anniversary Brick. For more information contact the Friends or visit www.friendsoffishcreek.org/brick
Fish Creek Meet-Ups
New for 2019 the Friends are launching a monthly Fish Creek Meet-up group. We hope you are able to join in and connect with others who love Fish Creek! Fish Creek Meet-Ups will be informal group walks with no registration, no fees, no facilitators. Just Friends getting to know Friends while walking through this beautiful park. Meet-Ups will take place at 2:00 pm on the second Sunday of each month at a different location each time. Dates and meeting locations will be posted on the Friends of Fish Creek events calendar. https://friendsoffishcreek.org/events/2019-03/
The Jobber's House at the Bow Valley Ranch
The 100-year-old house that stands next to the Friends office in Fish Creek Provincial Park has
been empty since the late 1950s. This house has been part of the charm of Fish Creek Provincial Park for three generations and community members constantly tell us how much the building means to them. We are proposing to take over and renovate and repurpose the Jobber's House to support our growth, further support our community, provide a facility to serve as a hub for less established non-profit groups and ensure the survival of this piece of Calgary's history. The Alberta Real Estate Foundation has provided a grant to cover the full cost of the feasibility study and project plan. Their generous contribution of $44,000 will go a long way in getting this project off the ground. Currently the building is being examined by experts in the field to establish if the project is feasible and what it will cost to complete. Once we have this document staff and the board will be looking at our options and deciding how to proceed. We look forward to sharing our progress on this exciting project.
March Fish Creek Speaker Series
Calgary Captured – Urban Wildlife on Film
Thursday, March 21, 2019 7:00 pm – 8:00 pm
Presented by Vanessa Carney, Calgary Parks, The City of Calgary
Calgary Captured, developed as part of The City's 2015 BiodiverCity strategy, is helping to fill in gaps in The City's collective knowledge around which wild species are successfully making a living in Calgary's natural spaces and how well The City is doing in terms of planning for and maintaining healthy, connected ecosystems to support habitats and the species that rely on them. Camera images of wildlife found across the city in 13 municipal parks and Fish Creek Provincial Park provide data for this program. Vanessa will share the results and insights from Calgary Captured, highlighting findings from cameras placed in Fish Creek Provincial Park. Free for Friends members and $10.00 for non-members. Free for youth 16 years of age and younger with registered adult. Registration Is Required. For info or to register visit www.friendsoffishcreek.org/event/wild