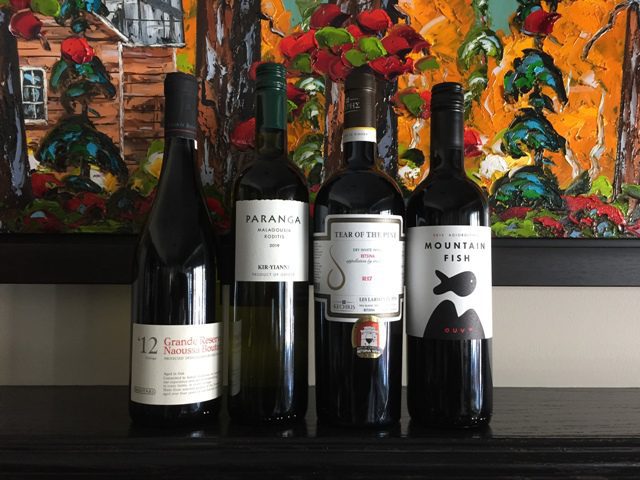 In the spring, I find it refreshing to take a break from the usual suspects and look at some unique grape varietals from the Balkans for some new perspective. What better place to dabble in than the cradle of Western Civilization, the Hellenic Republic? Greece has been making wines for about 6,500 years, to Dionysian approval.
I have always been fascinated by Retsina, an inexpensive white that derives its unique flavour from pine resin used 2000 years ago to seal wine amphorae for long-term storage. Though no longer necessary as a sealant, the resin has now become an integral part of the fermentation process. Kechris Kechribari Retsina is made from Roditis and gives incredible value. Kechris "Tear of the Pine" Retsina, made from Assyrtiko, is a game-changer that shows great ageing ability, complexity and expression. Why not try the two together with hummus and cured meats?
The 2105 Strofilia Mountain Fish Agiorgitiko was a pleasant surprise for me. Grown in a mountainous region at 800 metres adds a floral fragrance and fresh acidity to the wine I find compelling. It has a bright cherry palate with some black plum on the finish. Not surprisingly, you may want to pair it with an oily fish, but my first thought was a pizza with anchovies.
The 2012 Boutari Grande Reserve Naoussa is my Olympic Gold. You pour and see the hints of garnet about the rim, so you are thinking Barolo. At first sip, you are hit with a powerful combination of acidity, tannic backbone and heat. Your mouth both waters and dries immediately. Yet this is not the Nebbiolo grape of Barolo but the Xinomavro grape of Naoussa. The flavour profile of cooked plum, fig, baking spice and nuts will stand up to any meal of wild game. As the saying goes, Go for the Gold!
These wines are all available locally and can be found by using the Liquor Connect website at www.liquorconnect.com.