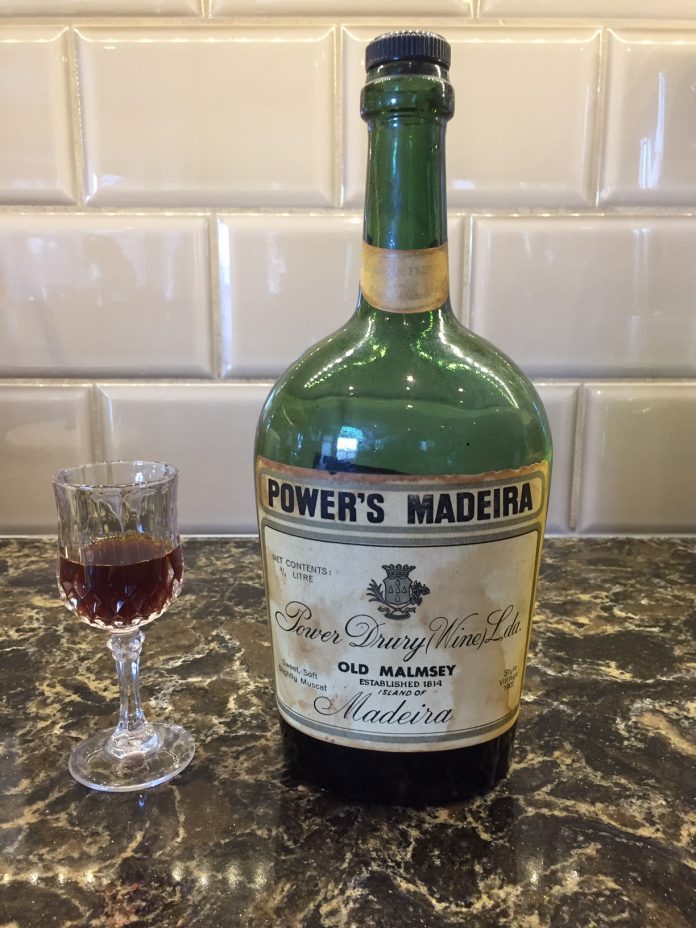 Funky Old Madeira
We've all been there. Assisting older relatives with spring cleaning. As the family "wine guy", I was tasked with sorting bottles from the basement wine cellar (AKA the storeroom's brown shelf).
First noticed in this hallowed area was the variety of whites. Most were single varietals from the usual suspects; a Hugel Gewurztraminer, a Dr. Loosen Riesling, a Rodney Strong Chardonnay. Since all were earlier than 1995 vintage, I knew what would come out of those bottles. The Dr. Loosen poured a particularly disturbing shade of brown. Digging deeper revealed three bottles of Dubonnet. Exciting if you're Queen Elizabeth II, since it's her favourite aperitif, but not so much for me. However, I did spot an intriguing item in the back row: a sealed, dusty bottle, nearly empty.
The stained label announced it was my favourite style of fortified wine: Madeira! I suspected it was quite old and therefore, rare. It was from Power's, a producer established in 1814. Very cool. Then I checked the vintage. 1904.
Madeira gains character as it is heated, which in the old days, was achieved in the hulls of ships crossing the Atlantic. (Today estufa tanks are used). A favourite of Washington, Jefferson, and Franklin, America's Declaration of Independence was toasted with Madeira.
Knowing inattentive storage of Madeira would not necessarily interfere with its quality – even after 120 years – and that the particular style I held – Old Malmsey – is the sweetest and richest, I was hopeful the bottle still had life. Delicately, I removed the crumbling cork and poured a thimble. Colour was rich caramel. The nose was pronounced with notes of aged red cedar and toffee, and from the first taste, I was hit by raisin, nut, and honey. Its significant acidity was truly unexpected in a wine from 1904! The highlight though, was the length and power of the finish. A single sip lasted minutes as opposed to seconds.
Lesson learned. Never say no to a basement clearing project. What treat might await you?