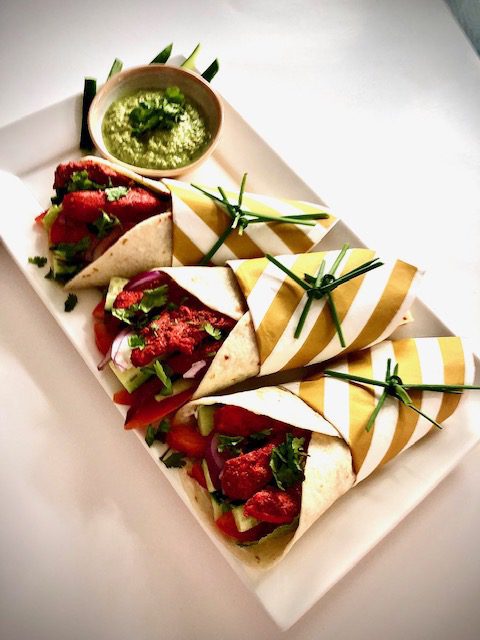 Versatility and convenience were some of the reasons for the creation of the wrap in regions that were once part of the Ottoman Empire.
The wrap may have also been inspired by the Dolma (grape leaves stuffed with rice, meats, herbs, and spices) or by the spring roll.
The objective may have been to create food that was tasty and practical, did not need to be served on a plate, eliminated the need for handwashing, and could be consumed anywhere, anytime.
Today the wrap is enjoyed stuffed with a variety of vegetables, cheeses, pickles, sauces, meats, poultry, and fish. The creation of a wrap is limited only by your imagination.
The tandoori wrap featured in this recipe is flavourful, exciting, and successfully merges the cooked spices of the chicken with the raw ingredients of the chutney and vegetables.
Prep Time: 40 minutes
Cook Time: 10 minutes
Servings: 4
Ingredients:
1 lb boneless/skinless chicken breasts
1 cup of Greek yogurt
1 tsp lemon juice
½ tsp minced ginger
½ tsp minced garlic
¼ tsp salt
¼ tsp red chilli powder
¼ tsp garam masala
1 ½ tbsp tandoori masala powder
2 tbsp canola oil
Green chutney
4 tortilla wraps
Mayonaise or vegenaise
Romaine or leaf lettuce
2 tomatoes
½ cucumber
Red onion
Fresh coriander leaves
Direction:
Slice the chicken breasts into ¼ inch thick slices, place in a bowl and set aside.
Prepare marinade by blending together the yogurt, lemon juice, ginger, garlic, salt, chili powder, garam masala, tandoori masala, and oil.
Spoon the marinade onto the chicken, making sure that it coats all the chicken pieces evenly. Cover bowl with lid or saran wrap and refrigerate for a minimum of 6 hours or a maximum of 24 hours.
Cook marinaded chicken in a small amount of oil, in a wok, non-stick pan, or karahi on a setting that is halfway between medium and high, for 7 to 10 minutes or until chicken is tender. Stir often to prevent the chicken from sticking to the wok, pan, or karahi.
Prepare wraps by spreading a tsp of mayonnaise or vegenaise on each one. Place lettuce leaves, sliced tomato, cucumber, red onion, and chicken on top of the lettuce. Add green chutney, a sprinkle of coriander leaves, then fold wrap and secure with paper napkins. Enjoy.
Bon Appétit!