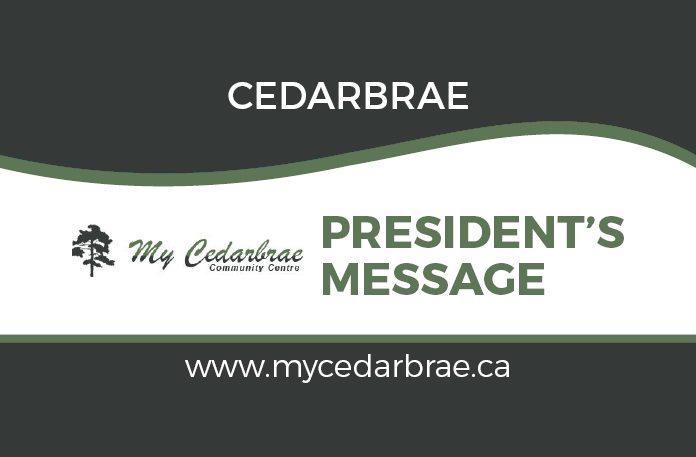 According to our local groundhog we should now be close to an early spring. Let's keep hoping that, as the saying goes, if March comes "in like a lion" it will go "out like a lamb"! I can almost hear our gardeners cheering.
The month of March will bring us cause to celebrate, observe or to act in recognition of some special days:
March 8: International Women's Day
March 17: St. Patrick's Day
March 20: International Earth Day
Or, how about?
March 1: National Peanut Butter Lover's Day
March 28: National Weed Appreciation Day
I hope that you found the time and took the opportunity to visit with us at the Community Centre to enjoy our Family Day Winterfest celebration around the campfire and on the ice rink. We had a great team of volunteers to help us host this event and a massive thank you goes out to every one of them.
Our programs and events at the Centre are there for you. They need your backing and participation. Without this, we may as well turn out the lights and lock the doors! So, come visit and see how you can participate and help.
A major fundraiser for us is a Casino where we need numerous volunteers. We do this about every 18 months or so. The next Casino is coming up on Wednesday, April 22 and Thursday, April 23, 2020 at the Deerfoot Inn and Casino. We still urgently need volunteer help to fulfill our obligations, especially with the late shifts (to 3:30 am) for chip runners and count-staff! The tasks are straight-forward as is the provided training. Snacks and a meal are provided. If you are prepared to help, please call Kathy in the office, 403-251-2101. Sign up with a friend and carpool! Thank you in advance.
Please feel welcome to drop by our Seniors Group for a chat over a game and a coffee, or to take in a brief presentation. The group meets on Mondays and Wednesdays at 1:00 pm, so feel free to drop in, it's free. On March 20 there is a 2:00 pm presentation to discuss ways to maintain independent living for seniors, with Tracy Rand.
Other scheduled programs include Zumba and Pickleball. From 6:00 to 9:00 on March 13, we are hosting a Meet Your Neighbour Night where you can drop in and, over an adult beverage, socialize with neighbours, old or new. Come and join us – you're only a stranger once!
We also have renters at the Centre who provide opportunities to you and your family. You'll find Yoga, Dog Training, Contemporary Dance, Orthodox Romanian Church, Fencing Lessons, Line Dancing, Floor Hockey, Youth Soccer and, starting in May, Kanto Sho Karate. In addition, watch out for a new exciting youth summer theatre camp opportunity to be provided by Urban Stories Theater group.
One way or another, we hope to see you soon at your local Community Centre!
Supporting Community,
Martin Waugh