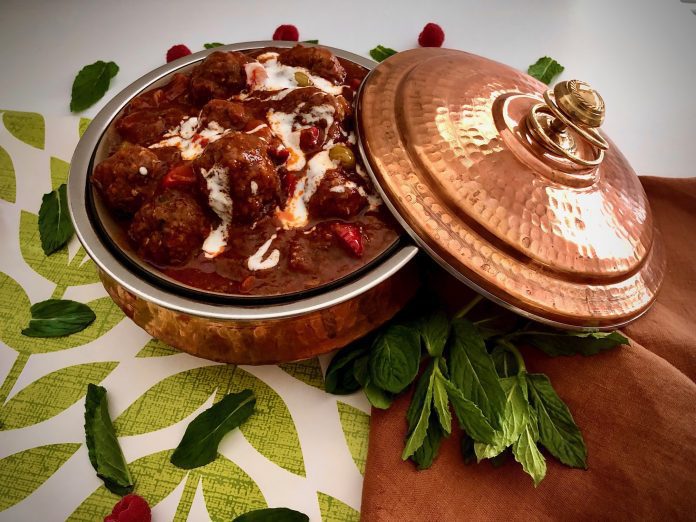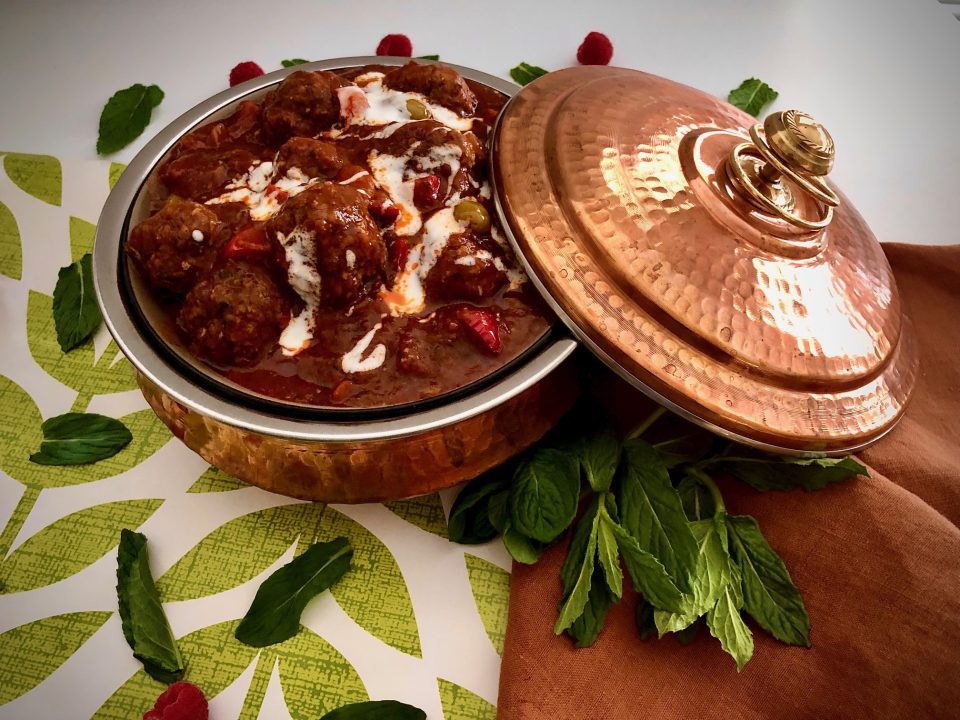 The red (Marrakech), white (Casablanca), and blue (Chefchaouen) cities of Morocco represent a vibrant mix of past and present and are a contrast of modernity with traditional customs and architecture.
Home to ancient palaces, mosques, and colleges, these cities are also famous for their gardens, fountains, medinas, and souks.
Medinas are walled cities with narrow winding streets which are notable for their absence of cars but abundance of bicycles and donkey carts.
Souks are the captivating street markets where you can purchase leather goods, lanterns, lamps, textiles, carpets (not the flying kind), spices, tagines, and good luck charms.
All sorts of foods are also available to the hungry shopper including local breads, dried fruits, and olives.
The most cooked meals are couscous salads, spicy lamb, and chicken stews, traditionally followed by cups of Moroccan Green Mint Tea.
Moroccan Style Meatballs can be enjoyed with Pita or Naan, couscous or salad greens, or Moroccan style carrot salad.
Prep Time: 30 minutes
Cook Time: 30 minutes
Servings: 4
Ingredients:
500 gms lean ground beef
½ cup fine breadcrumbs
½ onion, finely chopped
3 garlic cloves, minced
3 tbsps. finely chopped mint
2 tsps. smoked paprika
1 tsp. ginger, minced
1 tsp. ground cumin
½ tsp. ground cinnamon
½ tsp. salt
½ tsp. black pepper
½ tsp. red pepper flakes
1 egg
2 tbsps. olive oil
1 red bell pepper, sliced
1 400 ml jar of Moroccan style meatball sauce
¾ cup water
12 seedless green olives (optional)
3 tbsps. of yoghurt (optional)
Directions:
Place ground beef in a medium size bowl and add breadcrumbs, onion, garlic, mint, smoked paprika, ginger, cumin, cinnamon, salt, black pepper, egg, and mix well.
Preheat oven to 400 degrees Fahrenheit.
Divide beef into 20 portions, shape into golf ball size meatballs, and place on a foil lined baking tray. Bake on middle rack of oven for 18 to 20 minutes or until cooked.
Add two tablespoons of olive oil to a wok or skillet and sauté the red pepper for three to four minutes. Next add the Moroccan style sauce, water, and cooked meatballs, and simmer for four to five minutes.
Remove from heat, garnish with olives, yoghurt, and fresh mint or coriander leaves, and serve.
Bon Appétit!