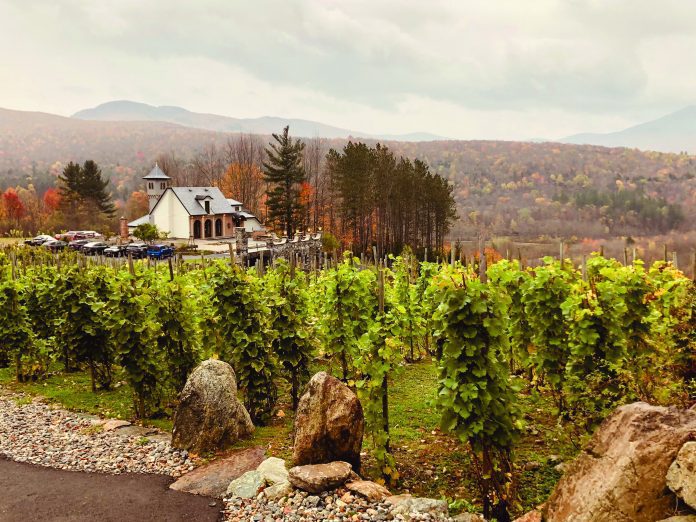 On a recent trip to Montreal, I ventured outside city limits to take in the sights and tastes of the Eastern Townships.
In Autumn, the winding drive is the star of the show. The colours and contours of the landscape will dazzle. With an early start, you can cover the 125 km distance out to Mont Orford for a stunning hike or a ride up the gondola before a satisfying lunch in Magog with a view of majestic Lake Memphremagog.
The drive along the lake ends at beautiful St. Benoit du Lac Abbey which offers Benedictine crafting of world class cheese. Their Fontina, Benedictine Bleu, and Frere Jacques are award winners. Next, head 45 km southwest to Domaine Dumont, just minutes from the Vermont border for breathtaking views of the Appalachian range. This estate has a chapel filled with antiquities, a castle-styled manor for weddings and overnight stays, and a reputation for fine Vidal ice wine. Adele was here recently filming her "Easy on Me" video.
Another 25 km lands you on the Brome- Missisquoi wine route. Head to Frelighsburg and experience the unique straw wine of Christian Barthomeuf at Clos Saragnat. He is the top choice for ice ciders in the world according to Gwyneth Paltrow and The Art of Eating food journal.
The wine route then meanders on to Dunham. Try out the winemaking of Herve Durand at L'Orpailleur. The wines will be distinct and terroir-driven with unique hybrid grapes like Vidal, Seyval, and Frontenac. L'Opailleur is one of about 15 wineries in the area so explore!
Finally, round back to the charming town of Bromont for dinner. The 4Canards at the Domaine Chateau Bromont Hotel would be my choice. The relaxing dinner may tempt you to book a room and stay the night instead of trekking 60 km back to Montreal.