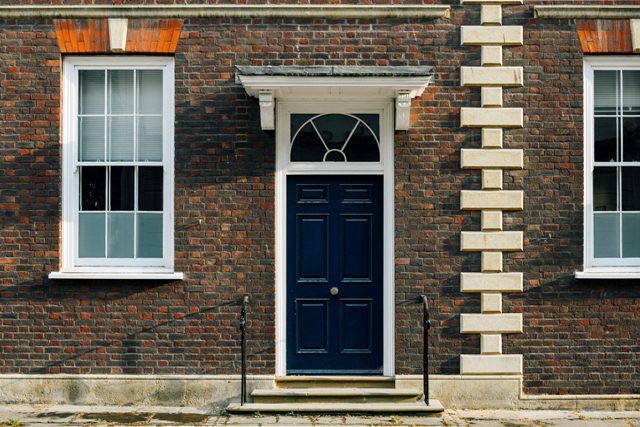 by Kelly Kaur
BTB Feng Shui uses the bagua map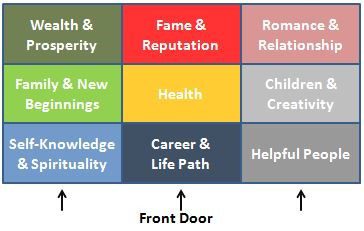 to divide your home on the main level into 9 zones Stand at your front door and face into your living area. Your front door will either be in the Self-knowledge and Spirituality zone, the Career and Life Path zone or the Travel and Helpful People zone. Thus, the career zone is in the front middle of this tic-tac-toe grid. In my house, my front door is in the middle of the front of my house; therefore, my Career zone is in the front middle. The Career area is the one that you want to amplify and energize to strengthen and solidify your career opportunities.
The first thing that you can do is to highlight this space with its feature colors. The colors are navy or dark blue and black. I find these colors easy to incorporate by simply putting in blue or black front door mats at the entrance. Black mats are easily available. Of course, you can paint your front door navy blue, dark blue or black as well if it falls in this zone. You may want to paint one of your accent walls in this area navy or dark blue or black. Do be careful with the balance of colors, though. You don't want a dark and dismal environment. Balance and good taste are key!
The shape of the water element is wavy, which you can highlight in this arena. A blue or black mat with wavy patterns would fit in so well; it is made for this water element area. I have also seen lovely wavy art frames, paintings, and wavy shaped mirrors. Perfect. Other types of art that goes well here are paintings of water scenarios – not rushing, crashing waves and the shipwrecked Titanic, though. I am sure you understand the negative symbolism here. Find a beautiful painting of calm or vibrant water scenes that make you smile when you see it. Koi fish swimming in water – good luck, for sure. Ships or boats in blue Mediterranean waters and skies. Yes.
The easiest and fastest thing that you put in this area to symbolize and create the water element is a mirror. Hang a mirror or two – they are natural items to place near the front. You can gaze at them and smile at your good luck on your way in and out of the house. Creative people can combine mirrors in wooden frames painted blue or black – element and color combined. Avoid mirrors that are fragmented, the ones with mosaic or small pieces that show your reflection in a thousand fuzzy ways. These mirrors are not good feng shui elements to use.
I keep my front career area free of clutter and junk. Feel the energy. Freshen it up with incense, sage or the fresh air that circulates in by opening the door. If you never use your front door because you only come in through the garage door, remember to open your front door at least once a day. The front door is the mouth of chi – the place that energy and good vibes enter your house. Vibrant plants and flowers here jazz up the energy in the space as well. Check those light, bright, working lights to shine your way.
The water element of your career area can be enhanced by water features. Do you have a water fountain that you want to display? Perfect. It can proudly sit in this career zone and uplift your opportunities. If your fountain has flowing and moving water, make sure that you point the fountain inwards into the house so that the water flow and positive energy is directed into the house and not flowing or symbolically pointing outwards to the front door – good luck leaving the house, so to speak. Your beautiful aquarium would be the right thing to showcase in the career zone, as it highlights the water element and creates good energy of the fish swishing away in the aquarium.
Check out your career zone. It may have the front door, or it may be to the left or the right of your front door. Wherever it falls, you now have many options to make sure that stabilize your career and maximize the energy to bring in many opportunities. Remember that when you stand in your career zone, you will feel positive about your career, and you will be surprised at how the world conspires to bring you what you deserve because you have beckoned them with feng shui vibes.