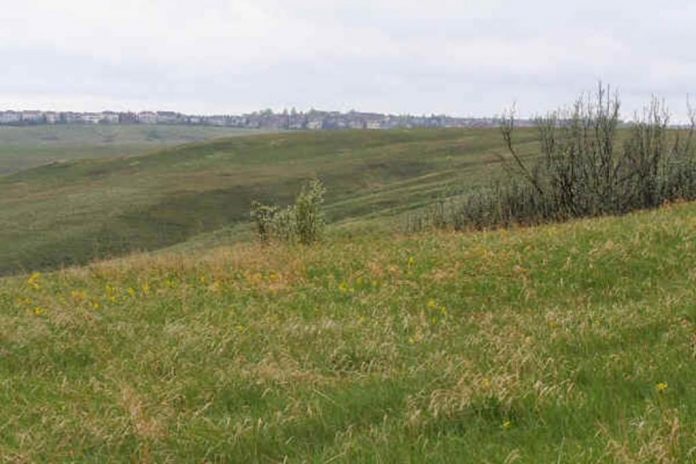 International Migratory Bird Day in May was when we offered a free guided walk during the peak time for migrating birds, especially songbirds, to return to Calgary. It is also when they are actively searching for and establishing nesting sites. There is a link on our website to past bird observations for the species that may be seen on Nose Hill. The males will be singing to attract a female and they tend to be most active at an early hour, from sunrise until 10 a.m. In addition, there was an evening Flower Walk to identify and discuss the May Count of Plants in Bloom.
The 2000 Calgary Pathways and Bikeways Plan is being updated to reflect changes to the existing network, updated connections, and approved policies. Priorities will also be reviewed, to determine new pathways, bikeways, and missing connections, so as to improve connections city-wide. With the consultation currently underway, it is anticipated that the final plan will be presented to City Council, in July or Sept. 2018.
The 2003 Calgary Parks and Pathways Bylaw is being reviewed. A report will summarize the feedback received and offer an analysis to determine if a second phase of engagement is required. Once the process is complete, the results of the consultation will be posted on the City's website. During the summer, a project team will determine next steps, before the updated bylaw is drafted and presented to City Council for approval in the fall of 2018.
Although the survey is now closed, part of it asked about linear parks for walking, running, cycling, and dog walking. Another was about pathway use year-round, ranging from popular routes for recreational activities; community connection for walking to schools, community stores, or centres; and for commuting to and from work.
Smoking in outdoor recreational spaces; responsible pet ownership rules for on-leash and off-leash; and tree protection on public land, including in city parks, are not part of the review. However, the Parks Bylaw and others may need to be changed to reflect the legalization of recreational cannabis.