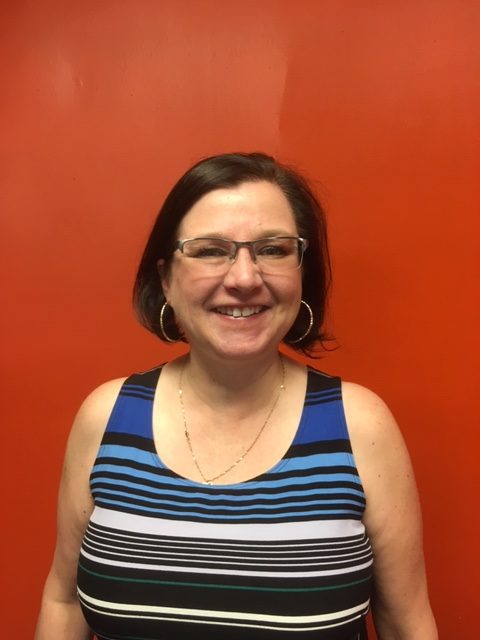 I meet Rachel in the bright, spacious, youth room of the Glamorgan Church of God, where she serves as Associate Pastor. She works with children and youth, in outreach and ministry to women, and occasionally preaches.
Rachel was born in England, but has lived in Canada since the age of four. She grew up in various places "north of 60," as she puts it. "(Small community living) was quite the experience. Since most people were transplanted for employment, there were no grandparents around. We became each other's extended family." Rachel joked that, in spite of Northern Canada's reputation for extreme weather, she "never saw blizzards (there) like in Manitoba!"
Rachel first lived in Calgary at the age of twenty, and returned for good at twenty-eight, transferring from her secretarial position with an environmental engineering firm in Winnipeg. She became involved with the Glamorgan Church of God eighteen years ago, at the suggestion of her husband, Rick, who grew up in the denomination. She found it to be "a good fit", and began as a volunteer with children and youth.
Rachel was raised in a charismatic Catholic tradition, and "from a young age, God was prevalent in my life." She was encouraged by Glamorgan Church staff to pursue a career in ministry, and was praised as gifted. She graduated from Rocky Mountain College after taking courses over a ten-year period and was ordained in 2018. Rachel appreciates the continuity of her involvement, stating "I've been here long enough that one of the youth that I knew as a child now has a baby. It is nice to be with people through all the stages of their life."
Rachel is passionate and proud of her initiatives within community outreach. Although the church does international ministry work, she asserts that "there are needs right here (in Calgary)". Once a month, children and youth make lunches for the Brown Bagging for Calgary Kids project, among other activities to support Calgary's vulnerable population.
The church values its role as a member of the community. Congregants have volunteered to serve meals for special community events. The annual Stampede Breakfast, held jointly with their neighbour St. Stephen Ukrainian Church, is one of the best community breakfasts in the city. Full disclosure: I speak from experience, having brought my grandchildren in the past. The Vacation Bible School, kept purposely low-cost at $30 for a week, draws children from across the city and across denominations. The church has been instrumental in ensuring the continued survival of a Glamorgan institution, the Glamorgan Community Kindergarten (ECS), which has rented the downstairs space since 2009. Rachel says they have a "great relationship," and she enjoys the lively sound of children's voices in the building. The church wants to open its doors to other community groups for low-cost rentals.
Rachel and Rick have lived in Glamorgan since 2001. Their son, Cyrus, now 13 years old, attended Glamorgan Community Kindergarten, Glamorgan School until Grade three, and currently attends the Calgary Christian School. Rachel declares that "Gladeview Crescent is the best street in Glamorgan!" She loves the multigenerational camaraderie on the street, the impromptu group barbeques, and the annual ladies' gathering. Of Glamorgan, she says she appreciates that "it's a mature enough community to be aesthetically pleasing, with mature greenery and a variety of houses. It's not cookie-cutter. And the birds! I love to sit and listen to the birds." Rachel has volunteered with the community Halloween and Christmas parties, and Rick has helped on the community cleanup event, and Neighbour Day.
One of Rachel's hobbies is dog training, and she competes in agility and obedience events. Her dogs were involved in the Superdogs show one summer. She jokes that she loves dogs because "they never talk back, and they are always happy to see me!" Rachel has trained Dobermans in the past, but was discouraged by their tendency to experience health issues. Currently, she has three rat terriers, Tigger, Lexi, and Sassy, who are "doing their best to keep the mouse population down in Glamorgan." One of the more interesting aspects of competition, for me, is "nose work". Odours are hidden and dogs have to find them. It is the same sort of training as that given to drug detection dogs. Rachel told me that she knows of a fellow who trained his dogs to detect bed bugs in hotel rooms – a useful trait, to be sure!
Rachel, thank you for your enthusiasm for Glamorgan and for your efforts to involve your church in the life of our community.
Do you know an individual or organization that you would like to see in this feature? Contact Loretta Biasutti at [email protected] or 403-249-5945 or drop off a suggestion at the community centre. We need your input!