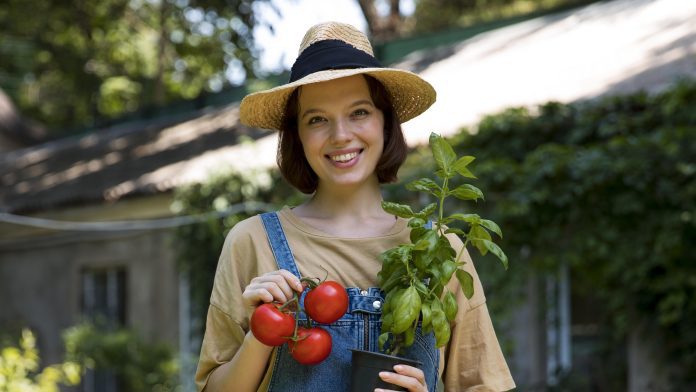 Get ready to move your vegetable garden beyond the back yard this year. In many cases, the front yard may be the only place with the full sun needed for tomatoes, strawberries, squash, peppers, and other delicious edible plants.
Concerns about what the neighbours might think prevents some homeowners from planting in their front yard. Consider telling them your plans in advance with a pledge to keep the garden neat and attractive. Another concern in planting front yard edibles is that passersby might take the produce. You may lose the odd tomato, strawberry or handful of raspberries, but will be surprised at how respectful of your plantings people are.
From self-watering heirloom cedar planters to in-ground galvanized in all shapes and sizes, to small space layered garden boxes, you can grow above or in the ground. Squeeze something in between driveways. Create interesting patterns in the middle of the yard with geometric shapes. You might choose circles or a series of rectangles and squares to create a formal pattern like those found on old European estates. Utilize paths made out of brick, stump rounds, flagstone, or just mulch, to ensure safe and clean movement through the area.
When well-designed and well-tended, a vegetable garden can be attractive enough to serve as a focal point of the landscape. The key is providing structure for the layout. Remember that fruit trees, bushes, and herbs all combine to create 'stories' in the garden. Plant colourful vegetable varieties, flowering shrubs, striking perennials, spring bulbs, and ornamental grasses for year-round interest. Consider leaving a strip of grass along the sidewalk to blend into adjoining yards…. and to keep the veggie snatchers at bay!