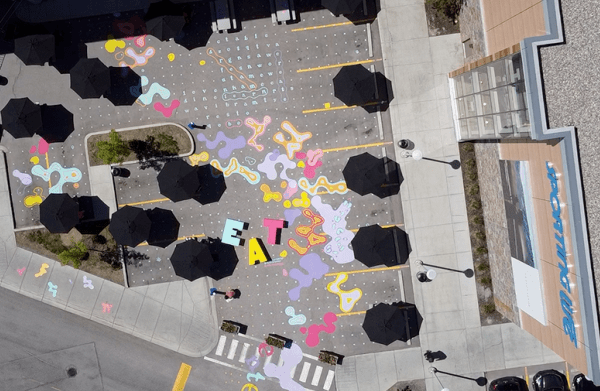 Public artwork to serve as backdrop for safe patio dining in support of food service vendors.
Calgary is excited to announce the launch of a new interactive art installation, Eat & Seek, a dual-purpose initiative that will both promote Alberta artists and lend support to local eateries. The inventive outdoor space will be open to the public from June 1 until the fall of 2021 and is located at the northeast corner of Southcentre mall near the main entrance. Eat & Seek will include a public patio with an array of seating where guests will be encouraged to enjoy takeout from the mall's food court and restaurant vendors, or simply enjoy a sunny day in the company of their cohort throughout the summer months. Intended to help alleviate the challenges food service businesses continue to face amidst the pandemic, it is the hope that Eat & Seek will rally support from the community while bringing awareness to local creative talent.
Eat & Seek has been curated in partnership with Promoting Artists Redefining Kulture (PARK) and features work from two Alberta artists. The collaborative concept and original artwork were conceived by Calgary-based muralist and Alberta University of the Arts alum, Nicole Wolf, and Edmonton creative, Chris Provins. The unique outdoor dining space will feature an interactive landscape of typography and shape that will encourage play and exploration for visitors of all ages. Vibrant designs and wordplay will inspire visitors to hunt for hidden messages and symbols in a larger-than-life word search, attempt an unconventional hopscotch, and explore puddles of magnetic colour amidst a vast, mysterious grid. Artwork will begin outdoors and extend into the mall, visually leading visitors from the main entrance towards the food court. Eat & Seek will also be mirrored at Southcentre's sister mall in Edmonton, Kingsway Mall, as a joint effort aimed to bolster support for eateries in both cities.
"It is our hope that this will act as a colourful backdrop for Calgarians as they safely enjoy the outdoors and come together this summer to both experience engaging local art and support local businesses," says Alexandra Velosa, Marketing Manager.
This public art initiative will also provide a unique opportunity for students from Alberta University of the Arts (AUArts) to showcase their work and gain exposure in a public-facing environment. In collaborating with AUArts, the mall invited six students to submit their own distinct designs for Eat & Seek, with guidance and mentorship from AUArts alumni. First-year student Jayden Manzara's submission was selected to be displayed as part of the onsite installation and the remaining five student designs will also be shared online. All six students also received mentorship support from two AUArts alum throughout the submission process.
"This is a wonderful opportunity for our students to gain hands on, practical experience and share their artwork with the community at large," says Jamie Leong-Huxley, Vice President Advancement at AUArts. "The pandemic has challenged us to find creative ways to showcase art, craft and design talent, and our partnership with Southcentre has allowed us to do just that."
Eat & Seek will include two self-seating patio spaces with capacity for 60 plus guests. Housekeeping staff will circulate regularly to ensure the area remains clean and sanitized during peak hours. All visitors will be required to follow local regulations for social distancing and group sizes. As part of its flourishing online community, Southcentre will also share Eat & Seek digitally in an effort to create further opportunities for connection among Calgarians who prefer to experience the installation from home. Artwork graphics and details about the contributing artists, as well as more information about Eat & Seek, will be made available.