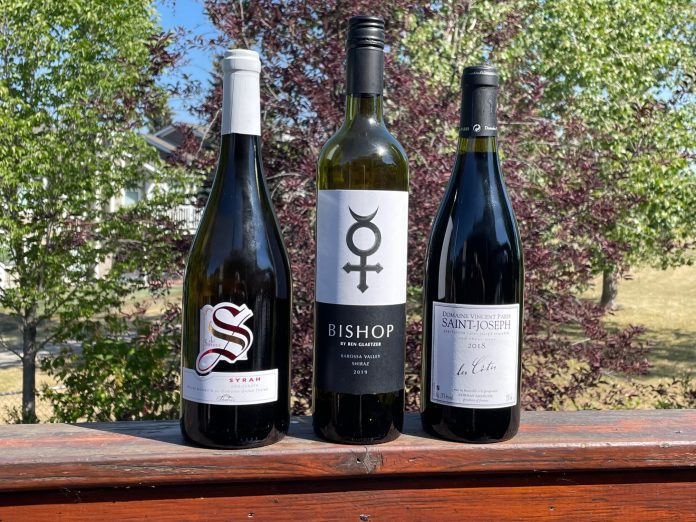 At the end of the BBQ season, a great varietal to explore is Syrah. A venerable grape of the Northern Rhone that can also be a key component of blends in the Southern Rhone. The Barossa Valley terroir of South Australia loves it as well but calls it Shiraz. Both create a powerful red that will stand up to your favourite barbecued meats.
In the "Value" category ($15 to $25), I recommend the 2017 S de Siroua Syrah from Morocco. The resurgence of winemaking in this North African country has grown steadily since the turn of the century bolstered by French influence and consultation. This 100 percent Syrah wine is full-bodied black cherry with a distinct meaty flavour and some leather on the finish. At $19.99 retail, you get tremendous value.
In the "Weekend Unwined" category ($25 to $40), I recommend Ben Glaetzer's 2019 Bishop Shiraz. Glaetzer is noted for producing Amon-Ra which boasts a top ten world Syrah ranking. Bishop is a stunningly smooth combination of blackberry and licorice. It also has the expected peppery finish, and I am amazed at how well it hides its 14.5 percent ABV. I could easily mistake this for an old-world Rhone. At $39.99 retail, it is priced fairly.
In the "Impress the Boss" category ($40 to $60), I recommend the 2018 Domaine Vincent Paris St. Joseph Les Cotes Syrah. An exemplar of the fine winemaking in the Northern Rhone, this gem's components work in perfect harmony. The complexity is remarkable with rich black currant, cedar, and spice. At $48.99 retail, you are getting solid value and a food pairing wine par excellence.
So "fire up the barbie" one more time and try out these outstanding wines!
These wines are all available locally and can be found through the Liquor Connect website at www.liquorconnect.com.