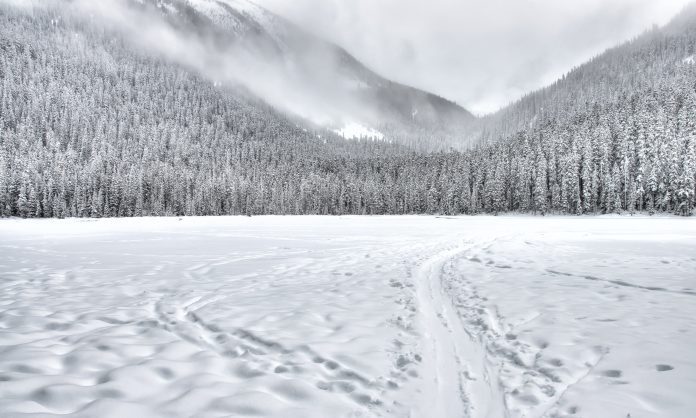 by Foothills Nordic Ski Club
Nordic skiing is a great activity for getting outside and enjoying the winter wilderness. But did you know that it is also probably one of the best exercises, both physically and mentally. This is true whether or not you are new to Nordic skiing or a seasoned competitor.
Nordic skiing is one of the most efficient ways to exercise a large number of muscles at the same time. The kick used to generate the power to move a skier forward uses the large muscles on the front of the leg, and the muscles on the back of the lower leg. Also, using poles requires you to use the upper body muscles, including the muscles on the sides of your back and in your arms. Core muscles are activated when you balance on your skis and shift your weight when sliding, gliding, and traversing over uneven terrain. A strong core enables the rest of your muscles to do their job efficiently and helps to improve your coordination and balance.
Because so many muscles are used during Nordic skiing, this means that the body's cardiovascular system is called upon to work hard to feed the muscles while they work. The more your cardiovascular system is challenged through exercise, the stronger and healthier your heart will become. This increase in physical endurance will spill over into all daily activities and even help improve your sleep.
Because Nordic skiing requires effort to move the body up and down, and across different types of terrain by engaging a large number of muscles, it is one of the best exercises for calorie burning. This may be a great way to get back into shape after too many holiday indulgences! By energizing your body, you will also help to boost your metabolism which, in turn, helps you burn more calories more efficiently.
Furthermore, as Nordic skiing is a low-impact activity, it is a great life-long sport that does not overly stress any one part of the body and helps promote healthy aging. Low stress on the joints translates to a low risk of injury.
In addition to the numerous physical benefits, Nordic skiing also helps to improve your emotional wellbeing by causing your body to release mood elevating hormones, called endorphins. Being outside and connecting to nature has also been shown to reduce stress and promote a sense of self-awareness that is easy to lose in our fast-paced world.
Nordic skiing, when done as a social activity, also promotes a sense of community and social engagement, which is important in maintaining a sense of self-worth and connectedness. It can also be a great way to develop new friendships.
As the new year begins, full of promise and opportunity, it might just be the perfect time to consider giving Nordic skiing a try. It is a great way to spend time with family and friends and improve both your physical and mental wellbeing. Who knows, it may just become your new favourite winter activity!
Calgary has several locations where you will find trails groomed for Nordic skiing: Confederation Park Golf Course, Shaganappi Point Golf Course, Bowness Park, South Glenmore Park and Maple Ridge Golf Course. Outside of the city you will find groomed trails at West Bragg Creek, Ribbon Creek, the Canmore Nordic Centre, Peter Lougheed Provincial Park, Château Lake Louise, and Mt. Shark.